Tom Reed put out press release
which lauds his election as a co-chair of the Problem Solver's Caucus. This Caucus is meant to do exactly what it's title suggests, work across the aisle to make Congress a better and more functional place, to solve problems. The caucus works with help and guidance from an organization called
No Labels
. Margaret Kimbrell, the No Labels Executive Director says:
"We can't let party affiliation be the enemy of productivity and progress. At some point, the nation needs its leaders to place loyalty to the country ahead of loyalty to the party. True leaders don't just point out problems. They solve them."
Great! Sounds fabulous to me. I'd love to see some genuine working together, sincere listening, and deep honesty in our government. We don't have to agree on every detail, but we do have to find ways to compromise and move our country forward. There is deep patriotism on both sides, on all sides, but this has been shredded by the lies and greed that have taken over our democracy.
Two years ago, No Labels held a conference, seems they hold conferences regularly, and it was attended by many well known politicians and some faces from the entertainment world. According to this
Huffington Post article
, by 2015, No Labels had failed to bring any meaningful bipartisan legislation to pass. But had succeeded in securing funding "in the name of bipartisanship."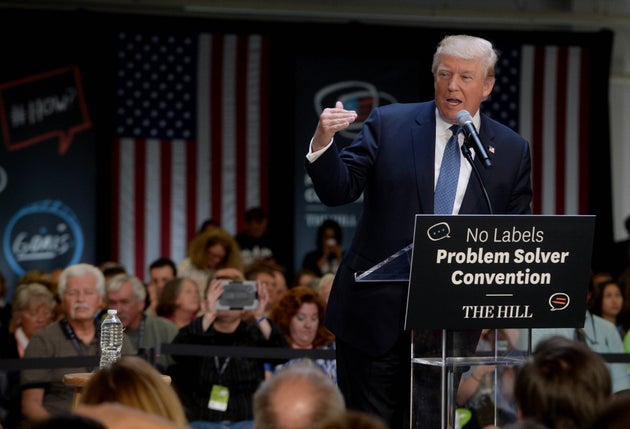 Along with John Kasich, Bernie Sanders, and Chris Christie, Donald Trump attended the conference and spoke. According to the HuffPo article
"The GOP front-runner cited his work restoring the Wollman Rink, New York's outdoor ice skating facility, as an example of bringing people together. But he delivered some classic Trump lines about working across the aisle as well.

"I like compromise. But let's compromise and win!" he said.
The author of The Art of the Deal added: "If you're going to compromise, ask for about three more times than what you want!""
If Trump is claiming he is bipartisan and wants to help "solve problems," then something is off. This whole thing doesn't feel right to me.
This is where things get interesting. The work of No Labels is supremely idealistic, but the details are very clouded and obscure.
This article at RealClear Politics
, mentions a Kansas Congressional Republican primary campaign in which No Labels helped Roger Marshall win the nomination over Tim Huelskamp, a Tea Party-favored incumbent. So, I looked up that contest to see what happened.
This article
gives the low-down on the very hateful and vitriolic fight between the two. I guess the No Labels position was that by helping Marshall, they helped a more centrist candidate win.
According to
this article from Breitbart in November
, Huelskamp was considering working for Trump, despite his loss in his own election. Hmm, definitely not a centrist is he's on Trump's side, and if they're featuring him in Breitbart.
Marshall on the other hand is your average, everyday doctor who had about $2.5 million to spend on his campaign, thanks to big business and pro-small government PAC support. He didn't differ much from Huelskamp. "
What separated Huelskamp and Marshall was personality, not policy. The two Republicans agreed on nearly every major issue. As a result, voters were left to decide which personality they preferred representing them,
"
reports the Topeka Capitol Journal
. In
this Topeka Capitol Journal article
, Marshall talks about his new life as a Congressman and working with Trump. He, like our very own Tom Reed, is not worried about Trump's wild streaks and unpredictability. He says
"We're going to formulate plans together so that we have a better end product. I welcome their input," he said of the Trump administration."
That doesn't sound like having No Label to me.
I'm missing something. I know I am. And I'm a pessimist. I certainly don't know, nor do I have the time to figure out the intimate details of these two men's ideas on policy. But they both have crazy amounts of money for campaigning, are very conservative Republicans, and support Trump's policies. How exactly does promoting Marshall over Huelskamp consist of supporting a centrist?
Which brings me back to our Tom. He's been a part of the Problem Solver's caucus before. But how exactly does he embody the idea of centrism? How is he reaching across the aisle to hear his opponents ideas when he won't even come to the more liberal areas to listen to his constituents? What legislation has he come up with that has done anything but divide the 23rd district?
I sincerely want to know what the real goal of No Labels is.
It is reported
that their 1787: Constructing the Peace After the War conference event
"came on the heels of a significant pledge from supporters of No Labels to fund a $50 million Super PAC in the 2018 election cycle with the explicit purpose of supporting problem solvers and defeating obstructionists in congressional primaries."
Even if they are legit, if they want government to work again, if they truly are fighting for compromise, we are still left facing one more PAC that is overflowing with big donors and the expressed purpose of altering the outcome of future elections for their own reasons. It seems, at it's very core, wrong.
But holy hell. I can understand why Tom and all the others are happy to jump on board and be sure to call themselves "problem solvers" if it means they'll get some of that $50 million next election cycle. Not a bad price tag for having No Labels.