By Peter Keenan
Medicaid is uniquely financed in New York State by payments from counties from property tax revenue. New York State is capping these county payments, but in 2012, upstate counties averaged
44% of property tax revenue for Medicaid. If New York City is included, state average totals jumps to 80% of property tax revenue spent on Medicaid funding.
In 2012,
$8.6 billion
was levied from county revenue to fund Medicaid services in New York State. My county, Chemung, spends
70%, and Erie County spends as much as 80% of property tax revenue on Medicaid. New York City spends $6.2 billion on Medicaid or nearly 10% of its total spending
. As the only state in the nation that funds Medicaid services through property tax is there even a way to provide affordable healthcare and lower property taxes?
The New York Health Act is funded similarly to universal health programs around the world through a payroll tax. Roughly a
10% to 11% tax
would be levied on employee (2% to 3%) and employer (8% to 9%). In terms of annual salary an individual making
$50,000 a year would pay $38 a month
and their employer would pay $150 a month in health coverage costs to fund The New York Health Act. Over 90% of individual New Yorkers would receive a huge financial benefit from the reduction of health coverage costs.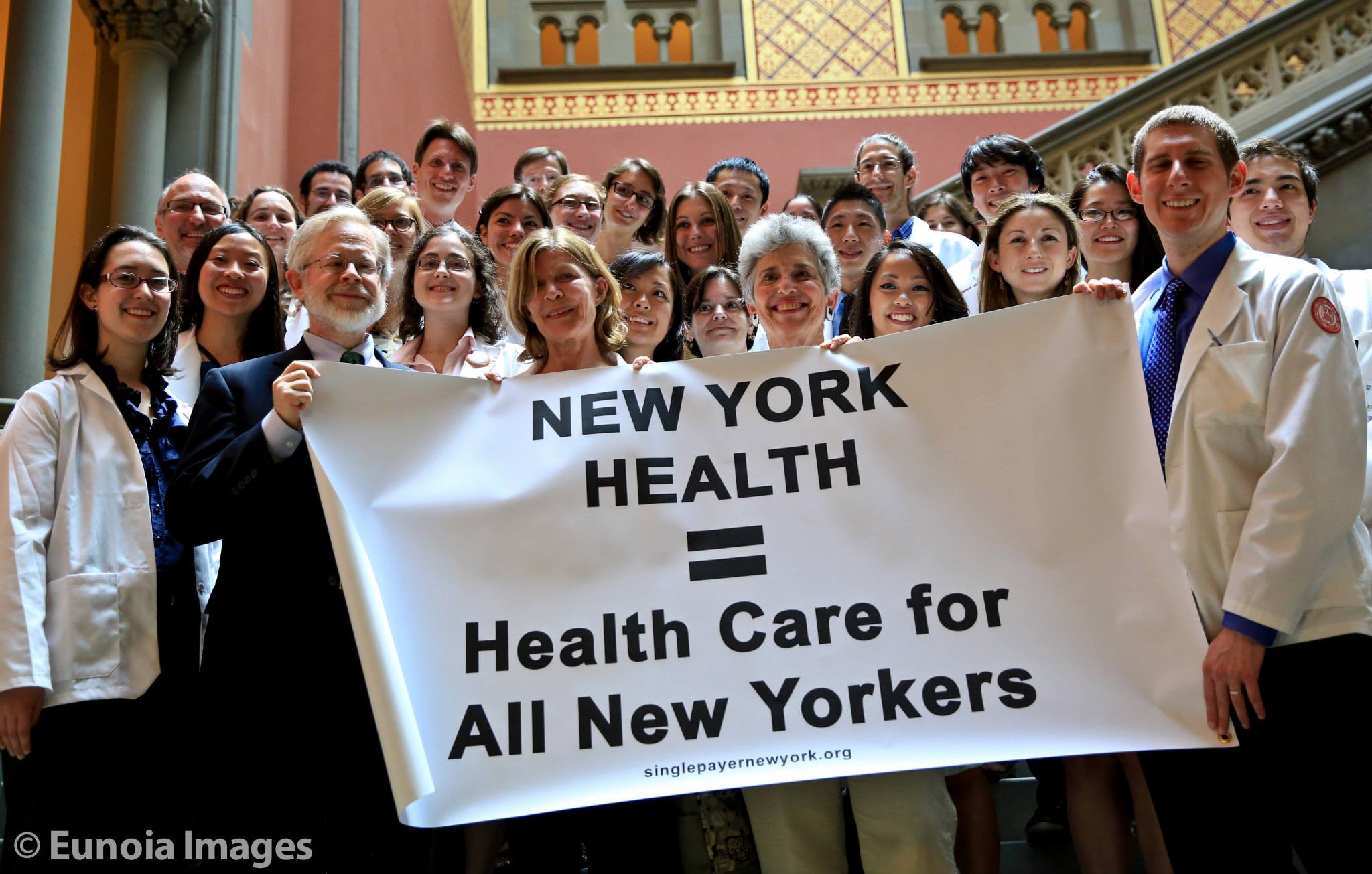 I wanted to get an idea of what the savings would mean to my family so I compared the current cost of health coverage to both employee and employer at my job. My employer currently offers health coverage with a premium of $450 a month for a family plan with large deductibles. My company's annual payroll was roughly
7.9 million
and fringe benefits (health insurance) of roughly
2.5 million
annually. The passage of The New York Health Act would drop my company's fringe benefit (health insurance) annual cost to $636, 000, a savings of 1.77 million annually. Using my employer-sponsored insurance premiums of $450.00 per month or $5,400 annually, my family would save $4,944 annually or $412 per month. The financial benefits from the passage of The New York Health Act would be a windfall for everyone in the state with the exception of private insurance companies. Individuals and employers would each have additional financial resources available to purchase goods and services, reinvest, and save. This influx of a large amount of disposable income would stimulate local economies significantly.
In addition to individual savings, each county in the state would see the elimination of Medicaid funding through the use of property tax. The state as a whole would immediately stop using
80%
, or
$8,608,063,122
, revenue from property tax to fund Medicaid. My home county of Chemung, whose residents currently pay upwards of
70% or $25 million
of property tax revenue to fund Medicaid, would immediately have those funds available to reinvest in their local communities. I want to state it plainly, Chemung County would have upwards of
$25 million
in revenue from property taxes available to reinvest in the county without have to raise property taxes. In every county in the state the huge amount of revenue from property taxes could instead be invested into schools, infrastructure, renewable energy job growth, and it wouldn't be unreasonable to think that property taxes would go down.
The first time I heard of The New York Health Act I thought it must be some crazy joke and then I found out it was true. After the shock wore off several questions then came to mind. If The New York Health Act is so beneficial to everyone in the state on so many levels why hasn't it been passed? The next question was who is stopping it from passing? The final question was what was I going to do about it? I had answers for the all three and they were all the same. NY Senator Tom O'Mara. My plan moving forward is to make sure that Senator O'Mara hears my voice and the voices of all of his constituents. My plan is to hold Senator O'Mara accountable and demand a clear and transparent government that works for the good of everyone and not the few.
Visit
The New York Health Act
website for more information and please contact your New York State Senator to ask for their support of the New York Health Act. Contact information for your NY State Senator can be found
here
.
~~~~~
Peter Keenan
and his wife Sarah live on the Southside of Elmira with their children Leo, Ollie, and Charlie. Peter has 20 years experience working in the non-profit human service field working with individuals with developmental disabilities/mental health diagnosis, inmates re-entering society, and at risk youth.